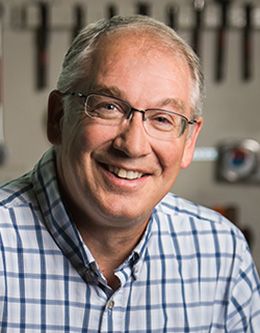 Steven L. Shumway
Steven L. Shumway grew up on a cattle ranch in Wyoming, where he learned valuable lessons about life and the gospel from his father as they worked hard together rounding up and caring for their herds of cattle. He then attended Brigham Young University, where he graduated in 1987 with a bachelor's degree in industrial education. It was there at BYU, as he was teaching his ward's gospel doctrine class, that he met his future wife, Joyce. They have raised four children together and live in American Fork, Utah.
Upon graduation from BYU, Steven Shumway began working as an electronics instructor for the Jordan School District. He worked there until 1992, when he became a professor at BYU. He also continued to pursue his own education, earning a master's degree in Industrial Technology and Design in 1993 and a PhD in curriculum and instruction in 1999, both from Utah State University.
Steven Shumway is a professor in the technology and engineering studies program of the Ira A. Fulton College of Engineering and Technology. He has conducted extensive research and published many articles on the status and improvement of technology education at elementary, secondary, and postsecondary levels. He and other BYU professors also led an initiative to work with school districts in the community on improving STEM curricula and activities.
At BYU, Professor Shumway teaches courses in electronics, robotics, and power and energy, as well as how to be an effective teacher and administer assessments in the field of technology. Across the board, his students praise him as a teacher who genuinely cares about them and has a passion for what he does. They say he knows how to teach in a way that fosters understanding and motivation and that he makes learning fun. He has been awarded multiple prestigious awards for his work as an educator, including the Benjamin Cluff Jr. Distinguished Educator Award and the Karl G. Maeser Distinguished Faculty Award.
Steven Shumway is also a devoted Latter-day Saint. Having served in many Church callings, including as a member of a stake presidency, he strives to constantly exemplify the call to minister to others. He believes that keeping one's spirituality healthy is as vital as any other endeavor. His BYU devotional focuses on having the courage and humility to do the things we need to do to keep the Spirit actively operating in our lives.
---
---