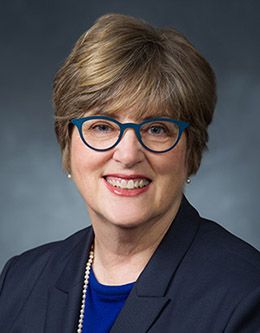 Susan Sessions Rugh
Dean of Undergraduate Education
Susan Sessions Rugh is a profes­sor of history at BYU, where she earned her undergraduate degree in 1974. She received a PhD in 1993 in American history from the University of Chicago and has taught at BYU since 1997. She is currently serving as dean of undergraduate education.  She has also served as associate dean in the College of Family, Home, and Social Sciences.
Specializing in the history of travel and tourism and in the history of rural America, Rugh has recently published two books: Are We There Yet? The Golden Age of American Family Vacations (University Press of Kansas, 2008), which received national media attention; and Family Vacation (Gibbs Smith Press, 2009), an illustrated, nostalgic look back at family vacations. Her article on Utah's promotion of tourism, "Branding Utah: Industrial Tourism in the Postwar American West," in Western Historical Quarterly (Winter 2006) won the Michael Malone Award from the Western Historical Association and a Best Article Award from the Utah Historical Society.
A Utah native, she is married to Thomas F. Rugh, and they are the parents of three sons.  When she is not writing books, or knitting sweaters for her grandchildren, she enjoys canoeing.
---
---