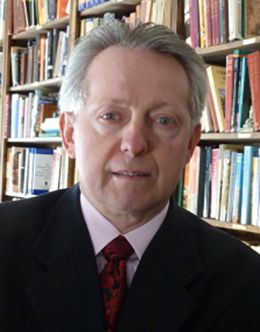 Terryl L. Givens
Dr. Terryl L. Givens is perhaps one of today's most prolific authors of literature relating to the LDS faith. His books on Mormonism and American religious culture have been acclaimed for their scholarship and objectivity.
Born in upstate New York and raised in the American Southwest, Dr. Givens was raised a member of the Church of Jesus Christ of Latter-day Saints. As a young man, he served an LDS mission in São Paulo, Brazil. He then studied at Brigham Young University as an undergraduate student before pursuing graduate work in intellectual history at Cornell University and doctoral work in comparative literature at the University of North Carolina at Chapel Hill. In 1988, he accepted an offer to teach English literature at the University of Richmond and has since taught literature courses focusing on Greek, German, Portuguese, Spanish, and English, as well as Biblical studies and nineteenth century cultural studies. In 1997, he received the Distinguished Educator Award from the University of Richmond, and in 2002 he was named the BYU College of Humanities Honored Alumnus.
In addition to authoring and editing several well-known books, including Parley P. Pratt: The Apostle Paul of Mormonism, Wrestling the Angel: The Foundations of Mormon Thought, and The Oxford Handbook to Mormonism, Dr. Givens has also co-authored several books with his wife, Fiona Givens. Titles of their books include The Christ Who Heals, The Crucible of Doubt, and The God Who Weeps. Dr. Givens has made guest appearances on NPR, CNN, and Frontline's The Mormons.
In his address at BYU, Dr. Givens spoke of the impact that Joseph Smith and the Book of Mormon have had on the world. His testimony of the divinity of the Prophet's life and mission serves as a reminder that each individual must seek out a personal conviction of the truth of the gospel.
---
---