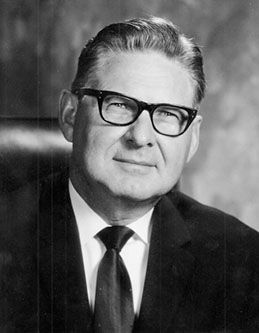 Victor L. Brown
Victor Lee Brown was born on July 31, 1914, to Gerald S. and Maggie Lee Calder Brown. He was raised in Cardston, Alberta, Canada, but his life took a turn at age 16 when his family uprooted and moved to Salt Lake City, Utah.
His family's relocation to the United States would prove to be a shaping force in Victor's life as he continued his education at the LDS Business College, University of Utah, and the University of California, Berkeley. In Utah he also met and fell in love with Lois Ashton Kjar of Salt Lake City. They were married in the Salt Lake Temple on November 13, 1936, and later became parents to three sons and two daughters.
After his studies, Brown went on to have a successful 21-year career in the aviation industry. He began as a reservation agent for United Airlines and quickly made his way up the ranks, working for various airlines and holding positions in Washington, DC; Denver; and Chicago. He served on Western Airlines's board of directors and has since been honored as a Utah Pioneer of Flight.
His career was interrupted in 1961 when he was called to serve as second counselor in the Presiding Bishopric of The Church of Jesus Christ of Latter-Day Saints. "I had never thought nor aspired to become a general authority," Elder Brown admitted, "but there was only one answer possible when President [David O.] McKay, a prophet of God, called me to His work." He succeeded Bishop John H. Vandenburg as presiding bishop in 1972 and served in that capacity until 1985. Then he was called as a member of the First Quorum of the Seventy, also serving as the Salt Lake Temple president for two years during that time. After 28 years of faithful service as a general authority seventy, Elder Brown was granted emeritus status in 1989.
Elder Brown held basic values, such as honesty and brotherly love, in high esteem. He was especially focused on the youth of the Church and sought to instill in them high standards to protect themselves against shifting moral landscapes. His many devotionals given at BYU exemplify his commitment to encourage others to faithfully live the gospel and diligently keep the commandments.
Victor L. Brown was reunited with his dear wife, Lois, when he passed away from a lingering illness on March 26, 1996, at age 81. His legacy lives on as his timeless teachings continue to educate and inspire us today.
---
---