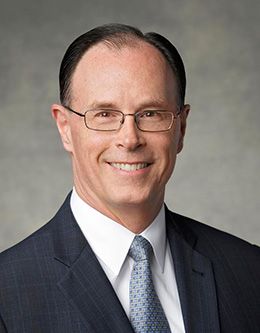 W. Christopher Waddell
When Bishop Christopher W. Waddell was in college, he had a knack for volleyball. He played on his junior college's team but decided to take a break from the sport to serve a mission. Shortly after submitting his mission papers, Waddell received a call from Pepperdine University. The volleyball coach at Pepperdine was so impressed with his talent that he extended Waddell an invitation to come play for their team with an accompanying scholarship offer. When Waddell explained that he would be unable to accept the offer because of his two-year mission, Pepperdine's coach offered to defer the scholarship and place on the team until Waddell returned.
Waddell accepted the offer and felt that he was being blessed for his willingness to serve the Lord. However, about halfway through his mission in Spain, Pepperdine had a coaching change and Waddell found out that his scholarship deferment would no longer stand. He would have to try out for a spot on the team and qualify for a scholarship if he wanted to play at Pepperdine when he returned home.
At the time, Waddell was crushed. He didn't understand why this blessing had been taken from him when he was sacrificing two years of his life to serve God. Ultimately, though, he made the decision to trust in the Lord and keep working faithfully during his time in Spain. Then, only a few months later, Waddell received an unexpected letter from San Diego State University's volleyball coach that contained a full-ride scholarship offer.
Upon completion of his mission, Waddell attended San Diego State University. He graduated with his bachelor's degree in 1984 and began his professional career with Merrill Lynch. He moved around inside the company, eventually working as vice president of investments.
Waddell married Carol Stansel in July of 1984. The couple met during Waddell's time at San Diego State when Stansel, then a student at BYU, came home to California for a weekend. They connected during a young adult dance and were married soon after. They are now the parents of four children.
In the Church, Waddell has served in a number of callings, including bishop, high councilor, and president of the Spain Barcelona Mission. In 2015, he was called as the second counselor in the Presiding Bishopric of The Church of Jesus Christ of Latter-day Saints. He was later called to serve as First Counselor at the October 2020 general conference.
---
---