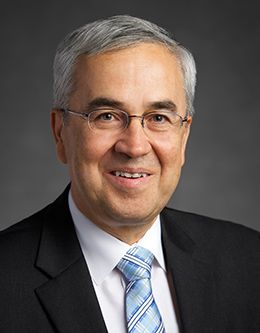 Walter F. González
of the Seventy
Elder Walter F. González was sustained as a member of the First Quorum of the Seventy in March 2001. He previously served in the Fourth Quorum of the Seventy and as an Area Authority in the South America North Area.
Currently serving as a member of the Presidency of the Seventy, he has supervisory responsibility for the North America Southeast Area. He has served as president of the South America West Area, president of the Brazil North Area, first counselor in the Brazil North Area Presidency, and first counselor in the South America North Area Presidency.
Originally from Montevideo, Uruguay, and having joined the Church at age 18, he has also served as stake president, president of the Guayaquil Ecuador South Mission (1989–1992), area public affairs direc­tor, and Regional Representative.
He earned a bachelor of general studies degree at Indiana University and a technician's certificate in busi­ness administration at CEMLAD Institute. His professional career led him to be director of the Church Educational System for the South America North Area. Prior to taking that position he was a CES employee in several South American countries.
Elder González is married to Zulma Anahir.
---
---