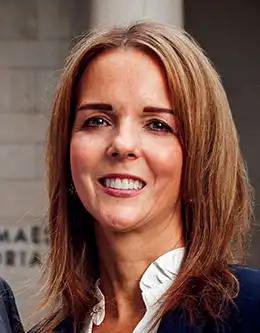 Wendy W. Reese
Wendy Wood Reese was raised in Holden, Utah, with four siblings. From a young age, she set
her sights on going to Brigham Young University. She accomplished this goal and graduated from
BYU in 1995 with a bachelor's degree in elementary education. Before graduating, Wendy met
C. Shane Reese at BYU when they and a couple of friends went to the Manti pageant. Wendy
and Shane developed a quick connection, and they were soon seeing each other every day.
They married in December 1993.
Wendy is known for her kindness, and Shane says that she "emulates the Savior's Christlike
characteristics." Wendy and Shane have three children, who say that "their mother is constantly
serving in quiet ways." Shane constantly relies on Wendy, calling her "unfailingly supportive." "I
can't imagine doing it without her," he says.
One of Wendy's skills and hobbies is baking, and she has always been generous in sharing her
homemade treats. Her children remember Wendy delivering baked goods to friends and
neighbors during the twenty-five days leading up to Christmas. This talent led her to start a
wedding cake side business that she continues to run today.
---
---