BYU Speeches Launches Pages in Spanish and Japanese
February 21, 2023 • Blog Post
Over the past decade, the BYU Speeches inbox has been inundated with heartfelt pleas for translations of BYU devotionals to be available in languages such as Spanish, Portuguese, French, Russian, and Tagalog as well as Japanese and other Asian languages. We are now happy to announce the launch of two BYU Speeches translated pages, with more languages to follow!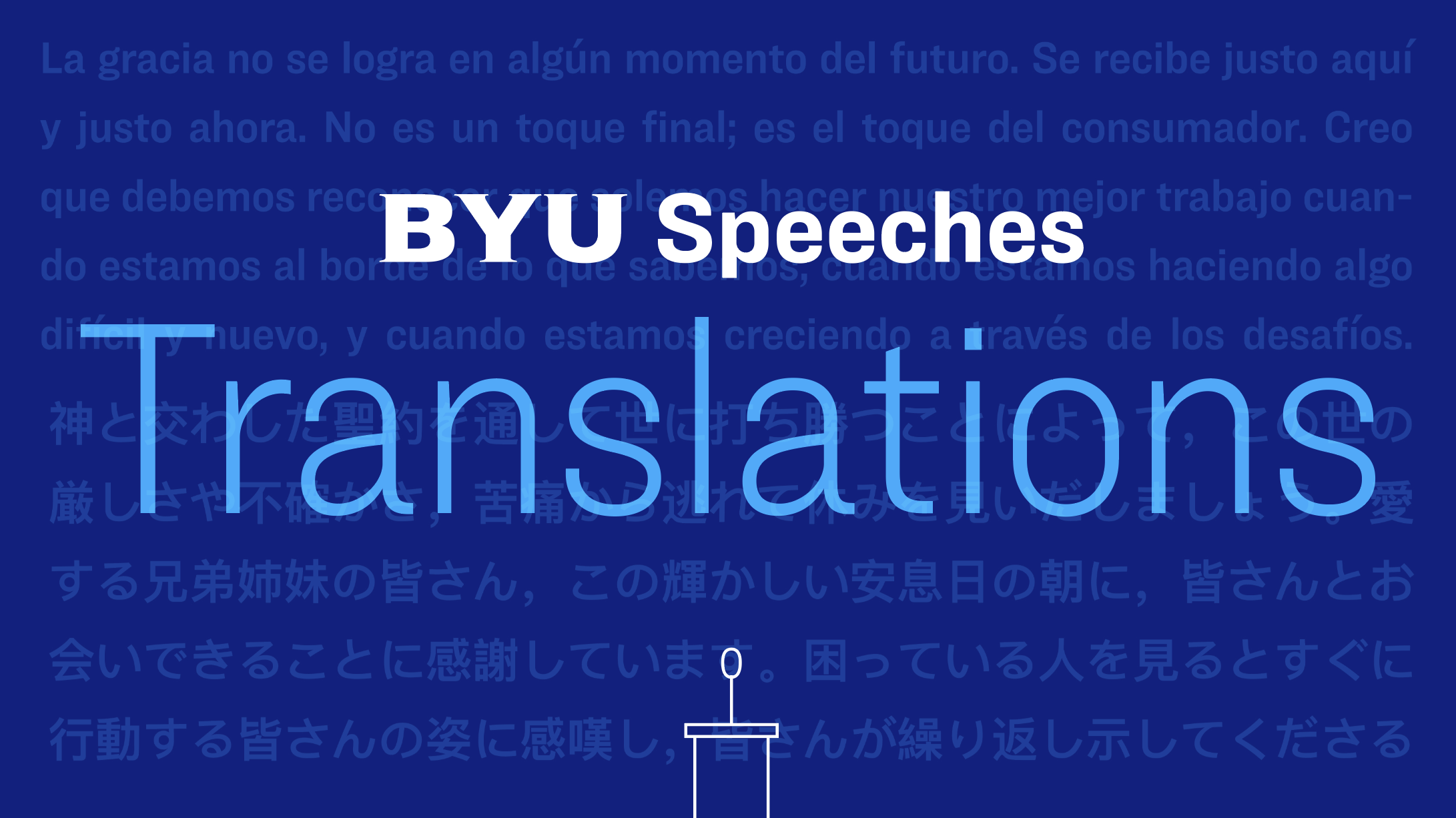 Making BYU devotional addresses available to the public has been our focus since 1972. What started as a group of editors printing weekly pamphlets of the university's speeches grew into a major department managing the robust BYU Speeches website, and the number of people engaging with BYU Speeches content grows exponentially with each new year! In 2022, BYU Speeches hit over 25 million reads, listens, and watches online across speeches.byu.edu, BYU Speeches podcasts, YouTube, and social media accounts. This monumental achievement has brought the unique light of BYU to people across the world.
Up to this point, we have lacked the resources and processes to undertake the daunting endeavor of translating speeches. But now, with the help of a dedicated director, a handful of talented students, innovative software, and the support of key BYU departments, that is beginning to change.
Starting Small
The current translation program focuses on making key speeches available in Spanish and Japanese. In February 2023, we launched language websites that host text, audio, and dubbed videos for a select number of key speeches and Inspiring Shorts. We aim to incrementally grow these offerings as individual speeches are completed, and people can request translations of their favorite speeches via email or by engaging with our social media accounts. Social media accounts in these languages will post content parallel to the English offerings as well as some individual content.
We hope to add additional languages in the future. We will focus on languages that are in high demand and have a sufficiently mature language program in the BYU College of Humanities so that there are enough students to participate in the process.
Time to Translate
Charles Cranney, head of the translation pilot program, has been working with BYU Speeches for over 40 years, and he has long dreamed of making translated versions of the speeches available. "We've talked about it for decades, but it seems like everything has come together now," he says. "In the last five years, the technology available to assist in translation has improved significantly. We have better options technologically, we have higher demand for languages, and we've hit our stride with our English speeches. So it really is time."
The opportune arrival of a new BYU faculty member made the resources that the translation team would need more accessible than ever before. Steven Richardson, associate professor in the BYU Computer Science department, came on board and provided the translation team with access to the Church's translation memories. These memories are databases that increase the speed, accuracy, and consistency of translation by storing accepted translations of phrases and scriptures that appear frequently in Church publications and general conference talks. Richardson has also worked to create a partnership between an industry-standard translation software provider and the university to allow students to use the software for educational projects, such as the BYU Speeches translation effort. "There are myriad uses for this technology that are yet to be explored, and BYU is the ideal institution to begin," he says.
To test the viability of translation efforts, Cranney partnered with the BYU College of Humanities to review the most requested languages and then select two languages for the pilot translation program. Spanish, which is the only language at BYU with a translation major, and Japanese, which is very different from Spanish and English and would help the team discover where the translation challenges lie, were selected. In September 2022, four students were hired and began the uphill process of creating language content.
The BYU Speeches Translation Process
The translation pilot program pairs filling a global demand with giving language students and native speakers inspiring learning opportunities in their field that are unmatched elsewhere on campus. The team follows a thorough five-step translation process for each talk:
Machine translation. Machine translation provides a basic translation to kickstart the process, and the Church memory database provides ready-made translations for scriptures and common quotations.
Human translation. Using the machine translation as a base, one student translates the talk and the other student reviews it, using the professional translation software Trados. Once the students have a good draft, they reach out to private networks to review the translation.
Private network review. Interested language speakers can join our private network and become part of a language community created to crowdsource reviews of the talks. People in these networks use a collaborative software called Crowdin to provide feedback for and refinements to the students' translation draft.
Text publication. After the speech is reviewed and refined, it is published as a draft on the BYU Speeches page for Spanish or Japanese. Site visitors are invited to comment on the translation and share feedback to help us perfect the translation.
Audio publication. After applying the public feedback and creating the best possible text translation, the team creates an audio version of the speech using the cutting edge neural voices technology.
For the Benefit of the World
Each member of the translation team personally understands the importance of this project for language speakers around the world.
Elisa Toma, a student translator for Japanese, says, "I'm just so excited that the people of Japan can get to read things that have never been published in Japanese before. I hope that one day these resources are something that they will be able to incorporate into their daily lives, just like people read or listen to general conference talks." For Josh Eyre, a student translator for Japanese, creating these translations isn't just about making new resources available to language speakers—it's about clarifying doctrine. "The two biggest problems with Japanese materials that I faced on my mission were the lack of resources and incorrect or incomplete resources," he says. For example, he remembers reading an old translation of the popular "His Grace is Sufficient" talk by Brad Wilcox and finding a few mistranslations that completely reverse key points in the gospel message. Unfortunately, such errors are not uncommon. But the translation team's efforts are meaningfully adding to and improving the available resources.
For Francisco "Paco" Estrada, translating BYU Speeches into Spanish has been a longtime interest. He asked his professors about joining the translation team before it was officially formed and became one of the first student contributors. "Many of my bilingual friends have had the same experiences that I had on my mission. I found this really cool talk that I wanted to share with someone I was teaching but it wasn't available in the other language," he says. "I love seeing the excitement of people who already know the product and understand how great it will be to have these speeches available in additional languages." Kika Londoño, a student translator for Spanish, says, "President Nelson has said that the gathering of Israel is the single most important thing happening in the world right now, and what better way for BYU to participate in that than by spreading the light and truth offered here to people all over the world in their own languages?"
BYU devotionals and forums unite the best of faith, scholarship, and service. As we strive to make these messages more available to a global audience, we know that we are not only responding to years of entreaties—we are helping to share the unique light of BYU with a world yearning for hope and joy.
How Can You Help?
As members of the BYU Speeches community, you can help in our great work of translation! Please help us spread the word and expand our translation networks by sharing the BYU Speeches pages and social media accounts with your family, friends, and community.
Language Speakers
We encourage you to share the new Spanish and Japanese BYU Speeches pages and follow and share our social media accounts to help us grow and reach more people. We are also looking for more Japanese speakers to join our translation network, no English-language skills required! Just take this language survey to begin the onboarding process.
If you have any questions or if you would like to submit a request for a specific speech, you can email us at speeches.spa@byu.edu (Spanish) or speeches.jpn@byu.edu (Japanese). We look forward to working with you!
The translation team is primarily funded through a partnership with the BYU College of Humanities.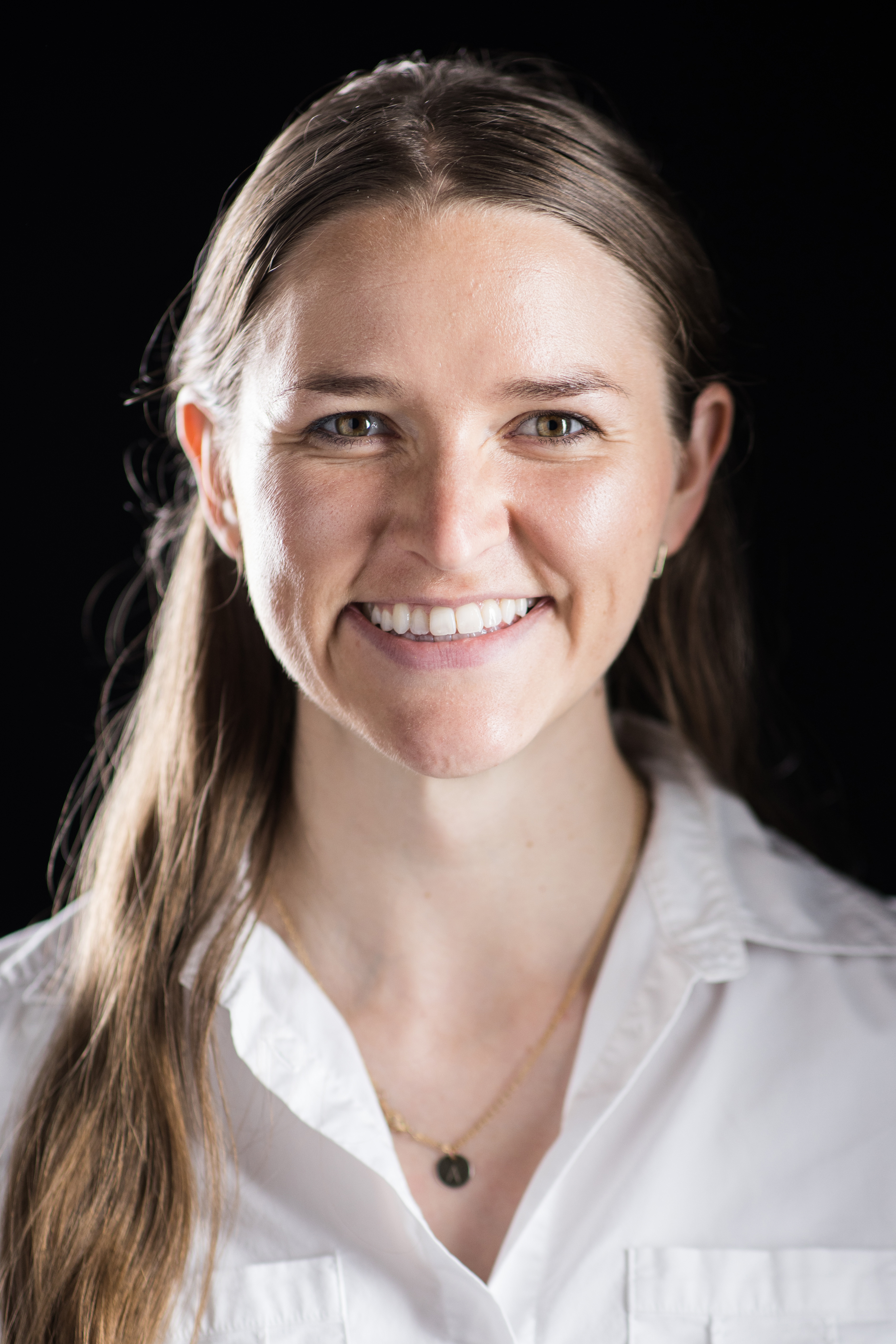 Alayna Een is an editor and the social media manager of BYU Speeches. She is passionate about the gospel and pumpkins. She also loves writing poetry, chasing sunsets, and dragging her siblings to local theatrical productions.