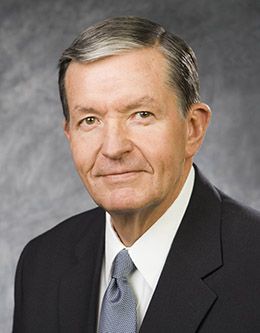 Cecil O. Samuelson
"Whoosh, Cecil!" thousands of students would shout for every successful free-throw at a BYU basketball game. This little tradition demonstrates the down-to-earth and enthusiastic character of the esteemed medical scholar, university president, and General Authority Cecil O. Samuelson, who is dedicated to improving the world around him in every facet of his life.
Cecil Osborn Samuelson Jr. was born August 1, 1941, and grew up in Salt Lake City, Utah. He served a mission for The Church of Jesus Christ of Latter-day Saints in Scotland and then attended the University of Utah, where he earned a bachelor's degree, a master's degree in educational psychology, and a medical degree.
While working on his undergraduate degree, he met Sharon Giauque. They fell in love and were married in the Salt Lake Temple on the Wednesday morning of a Thanksgiving break. Always a hardworking student, Cecil O. Samuelson spent the afternoon after the sealing attending his embryology class before the wedding reception later that night! Sharon has always supported him in his academic, professional, and ecclesiastical responsibilities. She worked as a schoolteacher to put him through medical school and then was a devoted homemaker and mother to their five children. He says that she has always been by his side, "particularly when the going is tough and the stakes are high." Their five children have now blessed them with many grandchildren.
After graduating with his medical degree, Cecil O. Samuelson fulfilled a residency and held a fellowship in rheumatic and genetic diseases at Duke University in Durham, North Carolina. He then returned to the University of Utah, where he was a professor of medicine and the dean of the School of Medicine. From there, he worked as the senior vice president of Intermountain Healthcare. He has authored or coauthored 48 original publications, eight books or book chapters, and thirteen abstracts. He also served as an officer or member of several national medical and hospital organizations.
In 1994, the life of Cecil O. Samuelson changed direction with a call to serve in the First Quorum of the Seventy. Having served as a regional representative, stake president, stake high councilor, and branch president, he was prepared to devote the remainder of his life to Church service. As a member of the Seventy, he served as the president of the Utah North Area and the Europe North Area, living in England for three years. He also served on the Presidency of the Seventy and as the Sunday School General President before being granted emeritus status in 2011.
In 2003, while serving as a General Authority, Elder Samuelson became the twelfth president of Brigham Young University. He joked that he would have to retire all of his University of Utah red for BYU blue. In his inaugural address, he emphasized his desire to keep the balance between the university's unique environment of faith and its commitment to academic excellence. He saw that is was imperative not to sacrifice either but to focus both on the needs of the students. He held to that resolution, contributing immeasurably to the university and its aims for eleven years. His many messages—the most of any speaker in the BYU Speeches archive—give insight into his testimony of the gospel and his commitment to helping Brigham Young University reach its secular and spiritual potential.
President Samuelson related well to students and faculty and spoke often of the importance of keeping standards high for individuals and BYU as a whole. His loving yet steadfast leadership brought the university solidly into the twenty-first century, prepared both to withstand adverse tides and to embrace floods of progress. In 2014 he left BYU to serve the Lord as the president of the Salt Lake Temple.
---
---