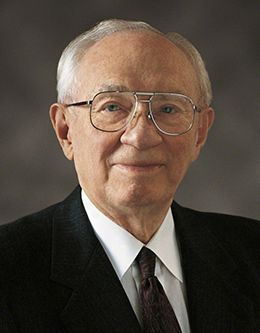 Gordon B. Hinckley
President Gordon B. Hinckley's cheerful smile and sense of humor were well known by members of The Church of Jesus Christ of Latter-day Saints. In the last years of his life, he would often use his cane to wave to crowds of people as he passed—getting him a scolding by his doctor for not using it properly. His spirit seemed indomitable. He was known to say, "It isn't as bad as you sometimes think it is. It all works out. Don't worry. I say that to myself every morning. It will all work out." Such optimism becomes more inspiring when set against the backdrop of Gordon B. Hinckley's life. He was no stranger to adversity and discouragement, yet he chose to be happy. 
Early Life
Gordon Bitner Hinckley was the first child born to Bryant S. and Ada Bitner Hinckley on June 23, 1910. Bryant had married Ada after the death of his first wife. Gordon grew up in a large family, with eight older siblings and four younger ones. The Hinckley children learned from their parents to face challenges with hope and determination and to follow the examples of their pioneer ancestors. 
Not long after Gordon began studying at the University of Utah, the Great Depression arrived, bringing deep discouragement and cynicism on college campuses. Gordon recalled that he and his peers faced many hard questions about their deepest beliefs while dealing with crippling uncertainty for the future. It was in this atmosphere that he learned his mother Ada had cancer, and she passed away not long after. Being only 20 years old, Gordon missed her terribly and determined to live in a way that would honor her. 
Education & Missionary Service
After graduating in 1932 with a bachelor's degree in English, Gordon B. Hinckley planned to go on to graduate school and become a journalist. At that moment he was asked what he thought about serving a mission. He hadn't considered it because of his dire financial situation—which became more dismal when the bank failed that held his meager savings—but he felt an impression to go anyway. Assigned to the European Mission, he soon found himself in Preston, England. The economic situation with its prevalent skepticism and the false rumors circulating about the Church precluded much success. Allergies and sickness plagued the young missionary. Ready to give up, he received a short note from his father which read, "Forget yourself and go to work." Those words prompted a sincere prayer and a pledge to the Lord that changed his mission. Though his efforts remained largely invisible, Elder Hinckley worked hard and found within himself a deep love for the people he served. 
Church Service & Family
Asked to report to the First Presidency on his return to Salt Lake, Elder Hinckley forwarded his mission president's request for better printed materials. Subsequently was asked to help create and lead a Radio, Publicity, and Mission Literature Committee for the Church, and there he started fine-tuning what was to become his legendary communications flair. 
He also resumed courting Marjorie Pay, who lived across the street. They were married in the Salt Lake Temple in 1937 and moved into the Hinckley summer home while building their own. There they raised five children. He and Marjorie supported one another through nearly 67 years of laughter, love, and service until her passing in 2004. 
At the outbreak of World War II, Gordon B. Hinckley applied to be an officer in the US Navy but was rejected because of severe allergies. Discouraged, he sought an opportunity to help by becoming the superintendent of several railroad projects. When the war ended he turned down a lucrative opportunity with the railroad company and accepted an offer to oversee the Church's new Missionary Department. 
In 1958 Gordon B. Hinckley was called to be a general authority, serving as an Assistant to the Quorum of the Twelve. His calling frequently took him to Asia, an area of the world he knew very little about but quickly grew to love. He served in this capacity for three years, as a member of the Quorum of the Twelve for 20 years, and as a member of the First Presidency for 14 years, where the heavy responsibility intensified due to the failing health of several of its members . 
In 1995 Gordon B. Hinckley became the 15th president of the Church. The experiences accumulated throughout his life had prepared him to bring the Church more fully onto a new, international stage. He believed in the potential of the media to further the Lord's work: he gave interviews to the New York Times, the Los Angeles Times, CBN's 60 Minutes, and CNN's Larry King Live. He also announced a hundred new temples worldwide, dedicating 95 of them in just over a decade. He made 90 visits to countries outside the United States. Though bothered by the fatigue of travel, he felt a constant desire to "mingle with the people I love." He oversaw the beginning of the Perpetual Education Fund, announced and dedicated the Conference Center in Salt Lake City, participated in the 2002 Olympic Torch Relay, and was the first president of the Church to visit Ukraine and Russia. On January 27, 2008, President Gordon B. Hinckley died, leaving behind a legacy of service that will continue to impact generations to follow. 
Readers, listeners, and viewers of this site can enjoy President Hinckley's 40 talks given at Brigham Young University over a period of nearly 50 years (from 1958 to 2007). This robust collection reveals a man who loved his audience and presented profound insights—coupled with his trademark humor—all in an effort to help each of us stand a little taller. 
Adapted from "The Life and Ministry of Gordon B. Hinckley." Teaching of Presidents of the Church: Gordon B. Hinckley
---
---