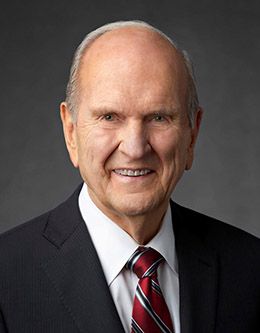 Russell M. Nelson
President of The Church of Jesus Christ of Latter-day Saints
President Russell M. Nelson has often related the fateful day in medical school when he was instructed never to touch the human heart. Right away he began thinking of the principle that all things work under the direction of laws, and so he must be able, if he learned the laws of the heart well enough, to imitate its functions in order to perform life-saving operations. Sure enough, President Nelson has touched many human hearts in his lifetime. What he may not have anticipated was how many hearts he would touch figuratively through his testimony, words of wisdom, and inspiring example. 
Early Life
Russell Marion Nelson was born September 9, 1924, a native of Utah. He was a precocious and inquisitive child, which led to him skipping from the fourth to the sixth grade. His prowess continued into high school, where he participated in debate, choir, football, and yearbook and still managed to graduate as valedictorian. It was in these years that Russell first entertained the idea of becoming a doctor. He would later say he felt "the finest career that would be available to a human being would be that of a mother. Inasmuch as that was out of the question for me, I reasoned that the second occupation would be medicine. There I could help people every day."1 
Undergraduate Education & Family
He graduated from the University of Utah with his bachelor's degree in 1945, and then summa cum laude with an MD in 1947, at the age of 22. Early on in his time at the university, he participated in a school play, where the lead soprano captured his attention. Her name was Dantzel White, and the two were married three years later in 1945 in the Salt Lake Temple. Their journey together was a long one, including not only the demands of Russell's career and then his service in The Church of Jesus Christ of Latter-day Saints, but also ten children. 
President Nelson has often commented on the indispensable support Dantzel was for him and for their family. Despite a rigorous schedule and, for a long time, very little money, she never complained. He, in turn, did what he could to support her. For example, Thursday was designated as her day to do what she liked—particularly for volunteering at the LDS Hospital and singing in the Mormon Tabernacle Choir—and he made sure to be home those nights to free her up. Their children fondly remember that both parents showed their love by making time for each child a top priority. "When he's home, he's home," Dantzel said of her husband.3 In addition to prayer and the scriptures, music and outdoor activities like skiing, horseback riding, and tennis were important to the Nelson family. 
Post-Secondary Education & Career
After he earned his MD, Russel Nelson completed an internship at the University of Minnesota, where he later returned to earn a PhD in 1954. Following his internship, he spent three years on a team that would make medical history. This team developed the first machine capable of performing the functions of a human heart and lungs during surgery, making open-heart surgery a real possibility for the first time. This development saved the lives of countless patients, many in the hands of Dr. Nelson himself. He, however, attributes the glory to God: "Men can do very little of themselves to heal sick or broken bodies," Elder Nelson said. "With an education they can do a little more; with advanced medical degrees and training, a little more yet can be done. The real power to heal, however, is a gift from God."2 
Dr. Nelson served as a medic in the United States Army for two years during the Korean war, travelling to Washington, D.C.; Korea; and Japan. After his service he returned to Utah, where he worked as a research professor and director of the Thoracic Surgery Residency at the University of Utah, as well as the chairman of the Division of Thoracic Surgery at LDS Hospital in Salt Lake City. He has authored many articles and textbook chapters, lectured nationally and internationally, and served as president, director, or chairman of several national medical associations. His achievements, expertise, and commitment in his field have earned him high accolades, including honorary doctoral degrees from Brigham Young University, Utah State University, and Snow College, professorships at three universities in the People's Republic of China, and various prestigious honors from the American Heart Association, University of Utah Alumni Association, and the American Academy of Achievement. 
Church Service
In 1964, Elder Spencer W. Kimball called Russell M. Nelson to be the president of the Bonneville Stake. He said, "Everybody we've interviewed around here says you might be alright, but you don't have the time. Do you have the time?" 
Nelson responded, "I don't know about that, but I have the faith!" That faith served him as he continued to serve both his patients and the members of his stake. In 1971 he was called to be the General Sunday School President, and in 1984 he became a member of the Quorum of the Twelve. In his service as an apostle, Elder Nelson made a special effort to speak to members around the world in their native language, often ending his talks with his testimony spoken from his own lips in Spanish, Russian, German, Mandarin, French, and other languages. He also served the Council of the First Presidency and the Quorum of the Twelve Apostles as organist at their weekly meetings. In July of 2015 he was call as the president of the Quorum of the Twelve.. 
In 2005 Dantzel Nelson passed away. However, the following year, a new companion and support entered Russell M. Nelson's life when he married Wendy L. Watson, a marriage and family therapy professor at BYU. They now travel and speak together often, uplifting and instructing members of the Church worldwide. 
In January of 2018, following the passing of President Thomas S. Monson, President Russell M. Nelson was sustained as the 17th President of The Church of Jesus Christ of Latter-day Saints. Over 30 years of service as an apostle have prepared him physically and spiritually to lead the Church. During a celebration in honor of his 95th birthday, it was announced that President Nelson has spoken to more than one million members in congregations around the world, traveled over 90,000 miles, met with more than 100 world and religious leaders, and visited 28 countries, all within the first year and a half of his time as President of the Church. 
These devotional addresses portray President Nelson's testimony, spiritual insight, and dedication to the gospel over the years of his service and leadership. 
[1]Gerry Avant, "Elder Nelson: Husband, Father are Highest Titles," Church News, 16 February 1986, 4. 
[2]Marvin K. Gardner, "Elder Russell M. Nelson: Applying Divine Laws," Ensign, June 1984 
[3]Gardner 1984 
---
---